Quote with 50 notes
Seventeen years later, aged 30, Copeland is a soloist and approaching the pinnacle of a ballet career. Just eight months after a career-threatening triple-stress fracture to her shin, she is captivating audiences in ABT's productions of Don Quixote, Le Corsaire, Romeo & Juliet, Sylvia and Sleeping Beauty. Culturati still whisper about her incendiary lead performance in Firebird, a role she originated in New York last year. And if the woman on set for The Edit today defies balletomanes' archetypal ideas of how a ballerina should look (rather than being reed-thin and flat-chested, she is
athletic and curvaceous), then it is because Copeland is redefining expectations – and with them, ballet – along more diverse lines. "I have worked my way from the bottom to soloist – my goal is to set a positive example for minority dancers; to make it easier for them in years to come," she says.
Despite her success, Copeland views her place as far from
assured. After three years, she was still the only black woman at the ABT in a company of 80 dancers. "The ballet world is so isolated that it's hard for anyone to fathom. People say, 'You're in New York. How is this possible?' It is just very exclusive." Even after reaching the privileged rank of soloist in 2007, challenges remained. "It's getting the idea into people's heads that ballerinas can have brown skin that is frustrating. There are so many stereotypes.
—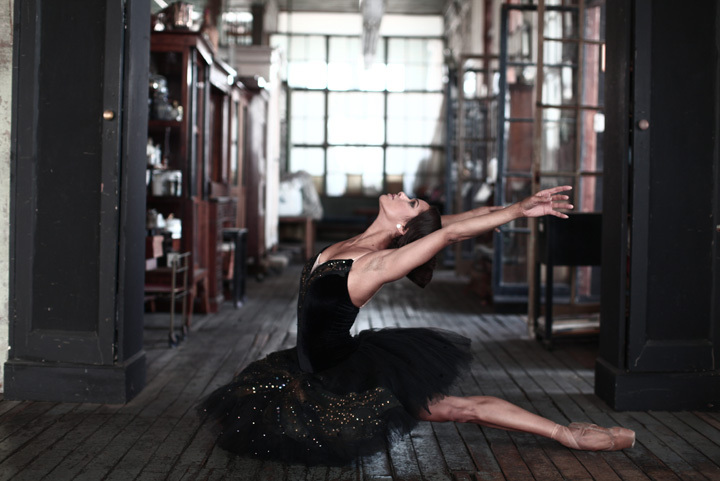 Misty Copeland 
Source: net-a-porter.com
Photo with 20 notes
Edwina Edwards
Source: tapdance.org
Photo with 274 notes
Misty Copeland - Black Ballerina